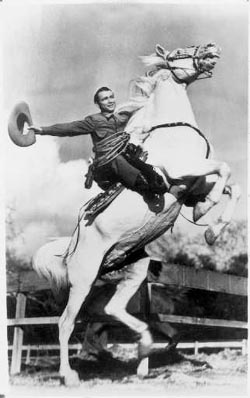 Golden Cloud was a palomino born on a San Diego ranch and sold at age three to a company that supplied animals to film makers. Olivia de Havilland rode side saddle on him in as Maid Marion in the 1938 classic
The Adventures of Robin Hood.
Golden Cloud soon crossed paths with cowboy star Roy Rogers. Noting how quick he was, both in terms of speed and intelligence, he renamed him Trigger and purchased him for the princely sum of $2,500. Together they fought bad guys in over 80 movies and 100 television episodes.
When Trigger died at age 33, Rogers couldn't bear the thought of burying his friend. Thanks to taxidermy, Trigger was preserved in the Roy Rogers and Dale Evans Museum. Two fiberglass replicas were made of Trigger, one for the top of the museum, one for the Denver Broncos scoreboard. When the museum closed its doors, Trigger was auctioned off by Christie's in 2010 for $266,500 to television station RFD, which plans a Western-themed museum.