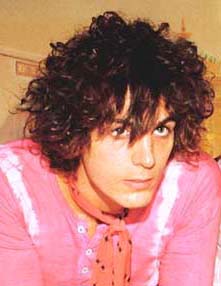 Roger Keith "Syd" Barrett was at art school studying to be a painter when he moved into a flat with his childhood friend Roger Waters. He joined Waters' band The Tea Set, which inexplicably ended up playing a concert with another band of the same name. On the spot, Barrett came up with the name The Pink Floyd Sound. It came from two American bluesmen, Pink Anderson and Floyd Council, appropriate because back then Pink Floyd was an R&B cover band, like many young British bands of that day. Barrett became lead singer, lead guitarist, and primary songwriter for the band, and under his influence, they became a leading psychedelic band. Barrett's exuberant stage presence was on display at the hip underground UFO club where Pink Floyd became the house band.
As Pink Floyd became more successful, Barrett's behavior deteriorated. What happened has been speculated to have been caused by the heavy use of LSD and other drugs, schizophrenia, bipolar disorder, or Asperger's. In interviews and on stage he became terse and unresponsive, sometimes not speaking or playing at all. Behind the scenes, he played bizarre pranks on the rest of the band, who grew more and more exasperated until, on the way to a concert, they refused to pick him up and played the show without him. David Gilmour was brought in to replace Barrett on guitar and by April 1968, Barrett was out of the band.
An abortive attempt at a solo career followed. In 1975, he visited Abbey Road studios and watched the band record "Shine On You Crazy Diamond", a song the band wrote about Barrett. Initially they didn't recognize him as he'd shaven his head and eyebrows, an image that would reappear in their movie
The Wall
. In 1978, he permanently retreated to his mother's house in Cambridge and would live there in as much seclusion as possible for the rest of his life, painting and expressing no interest in music, Pink Floyd, or his fans. He died of complications from diabetes on July 7, 2006.