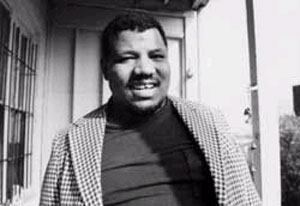 In the late 90s all of us wannabe hipster types were crazy about a 6'5" 300 pound musician named Wesley Willis. It's hard to explain exactly what his music was like. Imagine Biz Markie as a homeless person shouting about public transit (or the "joybus", as Willis dubbed it) and you have some idea. You have to experience it for yourself, and there is plenty to experience as he released some fifty albums during his relatively short musical career. Many of his songs were inspired by popular culture, but the cultural elements were wrenched from their original contexts and recycled in incomprehensible ways. His songs usually ended with the couplet "Rock over London/Rock on, Chicago," followed by a random advertising slogan, like "Polaroid. See what develops."
Willis was the son of a Chicago street hustler. He was a paranoid schizophrenic and heard voices ever since a night in 1989 when he was robbed at gunpoint by his mother's girlfriend. With cheap keyboards, he started his musical career, which took off when Jello Biafra's label Alternative Tentacles released a couple of his albums, and toured frequently, sometimes fronting a punk band. He seemed to hit all the buttons: punk, outsider art, dadaist anti-art, ironic pop culture. However, his popularity made some think the crowds were there for the wrong reasons. Okkervil River frontman Will Sheff wrote that the "Periodic appearances for crowds of jeering white fratboys evoke an uncomfortable combination of minstrel act and traveling freak show."
In late 2002, he was diagnosed with leukemia. He died on August 21, 2003.